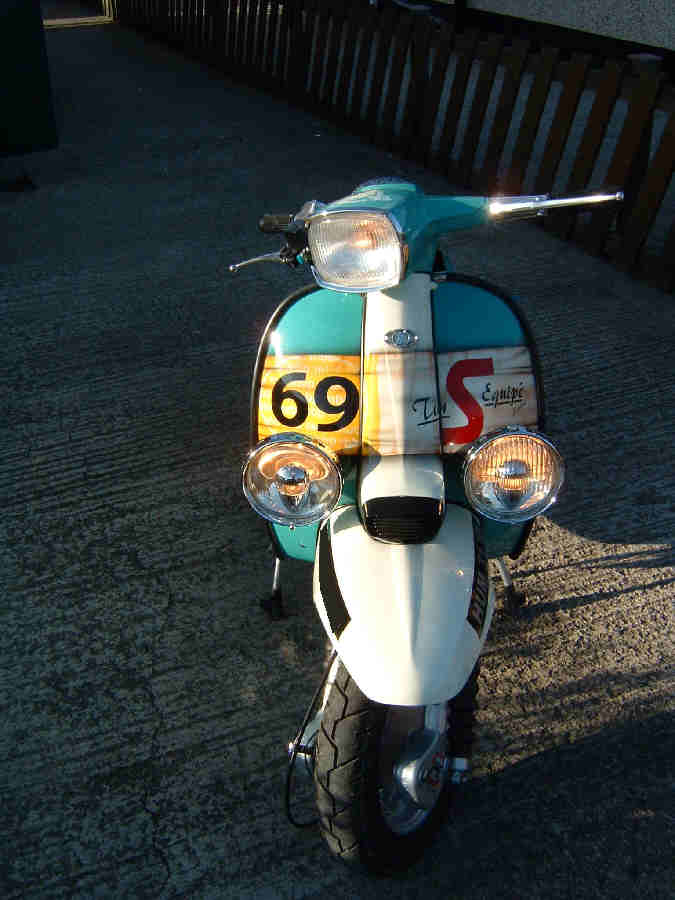 Owner(s): Simon & Sue
Country: UK
Scooter model: Lambretta DL125 - 1969
Details: Inspired by the John Ronald interveiw in Scootering and of cause a certain Mr Catanis racing Lambrettas web site! Me and Sue have been to the Isle of Man to watch the TT races over the last few years so it seemed a good idea to combine the racing scooter theme of the 1960s scooter week events on the island.
The John Ronald interveiw in June 2002 included the fact that three DL125s had been shipped over for Arthur Francis team S Equipe before they had gone on general sale to the public and finished in the first three places.
1969 GP125 , went to buy a GP200 but Sue my wife bought me this GP125 to stop me sulking because i couldnt find one. When the dating certificate came back as a 69 model the idea of the John Ronald bike was born.Built over a period of 9 months ready for the Chucks retro Isle of Man rally in May 2004.
Most of the artwork is from the Scootering article and the picture on the side panel came from a magazine advert in a 1969 edition of Scooter World my grandad gave to me, I even bought another picture to use for the paint masks so I didnt have to cut the magazine up.
All the paintwork was carried out by BPS and Matty Evans. The front forks have been built by Mark Broadhirst with uprated springs and fat dampers.Taffspeed rear shocker ,MB outboard disk is totally superb, yam master cylinder with cut and welded brake lever to suit the clutch lever. Krober rev counter ,original sixties switches and original Lucas Ranger lamps and mounts that we got totally rebuilt and chromed ( It cost a fortune !! ) with their matching covers.These tend to be a real love or hate thing ,I love them even though they were not fitted to the Isle of Man Gps, they are just so in your face.
Spanish sx200 casing with MB built 205 Suzuki stage 5 motor. MB close ratio gearbox, 30mil PHBH Dellorto, 42mil clubman exhaust, wide rim on the rear.Big tank with cut out for TS1 carb.Not much chrome as the scooter was built to be ridden not polished, mainly powder coated forks and internals, Snetterton seat by L&N .
The scooter has been built to capture a sense of the period rather than being an exact replica down to the last nut and bolt, something that is reliable for every day use.
big thank yous to
MB Developments- Broady, Ian ,Slacker & Martin ( All well beyond the call of duty once again lads )
Trev -Midas Touch Polishing and Chrome
Nidge - LSN Coatings
Dean Garra- DG Fabrications ( All the little nadgy bits cheers Dean, Ricky Boy & Stevie )
Bertie & Matty - Berties Paint Shop
Marky Mark - Lambretta Art
Electronic Max-
Ebay SX Rich -
Paolo.....your site is responsable for Sues Series 1 not getting built until next year....and her Vespa.