Movin Shadow Sprinter Mk 1 – Back to the Old School
I had always be interested in tuning Lambretta s from my very first GP125 which became a GP175 with Hi-comp head/30mm dellorto/OTT Fresco back in 1984 to my TS1225 with MB Stage 2 Tune/34 Amal/Kegra Pipe that I owed up to 1995.But it was back in 1989 I saw an article in Jet Set called 'Hair Dryers on the strip' which was the story of Sprinter Richard Baker (who is still sprinting today!) and John Scrutton(British Record Holder) there sprinters with spec's and general advice on the sport. The Lambretta Scooter is very suited to SS ¼ Mile as it can be made VERY light so get off the line Fast / it is low to the ground so it can be made very aerodynamic and also Lambretta engines have been tuned up to 38BHP that's good for 113mph!!!!! TOP SPEED with 12.70 Being the fastest Lambretta SS1/4 Mile that's 0-60 in less than 5 Seconds.
Some years later (2002) I brought a Cutdown LI150 Series 3 with a standard 125 engine from a friend who had it in his garage for 5 years, and I come up with the idea of taking it sprinting after browsing the 100MPH Lambretta.com web site.
So it was taken to The North Weald Classic and Sprinted in front of 3,000 People, after seeing Stuart Owens it was time to get serious and design a Proper Lambretta Sprinter:
Spec Front Hub – 1966 Li150 111
Front Forks –1966 Li150 111
Frame – 1966 Li150 111 Cutdown
Handlebars-Lightened
Petrol Tank –1966 Li 150 111
Brakes – Front – Standard Rear - Converted Rear Set From Lambretta Parts
Seat – Fibreglass TZR Racing
Carb – Dellorto 22mm VHB
Exhaust –AF Clubman 42
Block –1966 Li150 111
Head – Hi-Compression 125
Plug - NGK
Barrel – LI125 111 Stage 5
Piston – 52mm
Bearings – Hi Load
Crank – 1966 Li150 111
Ignition 1966 Li150 111With Lightened Flywheel
Transmission – 15/46
Clutch – Wet 4 Plate Li/Uprated Springs
Gears – Li150 111
Rear Suspension – Li150 111
Tyres – Michelin S1 350 x 10
Oil – Putoline Race
Gearbox Oil – St90 1/2 Litre
Fuel – Shell Optimax
Colour – Red/Black Hubs/White Rims and Petrol Tank

Best SS1/4 21
Best Top Speed 52
Movin Shadow Sprinter Mk 2 – Birth of 'THE SHADOW'
After a lot off research, time and effort I had come up with THE MOVIN SHADOW Sprinter the chain off events was as follows:
Sept –December 2002 many nights in a cold garage stripping the Scooter down Lightening/Lengthening/Raking the frame, shortened the forks and Head-stock stripped all the lighting parts from the Head-set and cut out the middle of the Seat Canopy, stripped most of the frame/forks and component parts down to metal and Sprayed them ready for assembly and got the specialised parts together ali covers for speedo and Light switch on head-set
¼ Speedway Fuel Tap fitted to LD Fuel Tank, ali seat base made to fit Fibre-glass seat unit, rear shock made from 1 inch square steel
Jan-April2003
Now with a finished Rolling Chassis it was time to concentrate on the engine by this time I had secured Sponsorship from The Lambretta Club Great Britain, AF Rayspeed, Cambridge Lambretta Workshop, Michelin Tyres and FM Helmets and with all this help it made it a lot easier to chose and engine
I chose the new rapido 250 Kit, as it was 244cc/had TS1 Sized transfer Ports and a very good forged Piston, also a 60mm Stroke Crank, a 60mm Stoke Race crank with SKF Bearings is needed, I got this together with a 200 Indian Crank case from AF Rayspeed, I used my old mk1 engine a donor for most of the other engine parts I started with the bare casting Blueprinted the Transfer Ports to The Ports of the Barrel I fitted Studs/Driveside Bearing/Mag Side Bearing/Piston and Barrel/Mag Side I checked for crank movement and then fitted the head, the it was time for the Chain/Clutch (Li150 Type), Gears/Rear Hub/Engine Cover and Finally some st90 Gearbox Oil.
Now the engine was built the exhaust and inlet port manifolds were flowed to mach the Barrel I fitted a Dellorto Magnesium 34mm Carb and A 42mm DJ Expansion Chamber both purchased from E-Bay.
The Engine was fitted in to the frame, cabled up and Fitted with an AF Indian Electronic Ignition the fan standard weighs 2+ Kgs so I had it skimmed to 1.5 to help acceleration.
Finally after 6 month work I decided to try and fire her up, after a couple of bumps she fired up
WOW IT SOUNDED GREAT!!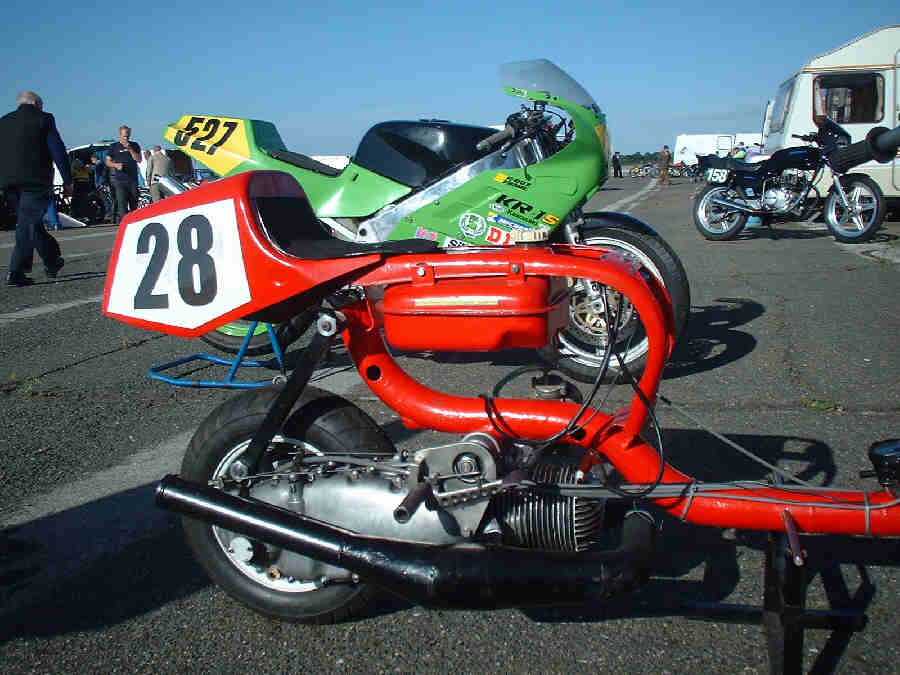 FIRST TIME OUT: April 11th - Woodbridge
My First Race was at RAF Woodbrige on April 11th this is a world Class Track with many speed records.
Being set here, the weather was sunny and there was a crosswind. This was a RWYB and was beening used as a test day for my Sprinter
The days racing normally runs to this pattern, Arrive/Get Sprinter out of Van, Scrutinnreing, Riders Meeting, Shakedown Run Days Racing with first 6 Runs counting toward Championship Points
My best time was 14.76@85MPH Which I was very happy with.
THE SHADOW MEETS The METHANOL MONSTER: April 25th - Wattisham
We arrived At RAF Wattisham an operational RAF base so Security was quite tight. This is my Favourite Track being very long and Flat, The Weather was cool and Sunny with a Slight Head Wind. Once in The day followed the same pattern as Woodbridge with one difference there was another Lambretta Sprinter Present a 225 METHANOL MONSTER whom I battled with all day and bat by 2 Hundredths of a second and on my First Championship Round I came Second with a best time of 14.58@86MPH
THE SHADOW VS THE FRAME BREAKER: June 20th - Waterbeach 1/8
Waterbeach Barracks is near Cambridge and only 20 miles from my front Door so we turned up to find a VERY bumpy track that had been Shortened to 1/8 Mile S/S The weather was humid and overcast. After Setting up, Scrutinerring and Riders meeting I was ready to bump my Sprinter in to Life and Wait in Line for my Turn:
RED LIGHT…..GREEN…GO Full bore in first 3 Gears and I was threw the line, what they did not tell me was the Braking Zone was full of potholes, I hit 1 so hard It felt like it had snapped the Back end of the Frame off. got know what the 9 second ¼ mile bike riders must have thought I got back to to the paddock and Guess what it had, a crack had developed across the back of the Frame/seat area. After a quick repair all was fixed
Best Time 9.32@70MPH witch is an (un-official) Record
13 Seconds or Bust September 5th -Honington 13.79@91.96MPH
During the season there is a bit of a break between Championship rounds so I used this time to inspect my engine and to my surprise I had put the Exhaust Gasket on the wrong Way Round and The back wheel was rubbing on the casting.AF Rayspeed had kindly helped/sponsored me with the RAPIDO 250 and they suggested I sent it back to get some engine work done and have an Exhaust built by Steven Riley Exhaust builder for AF.
So I sent the engine back and it was turned around in about a month which was very good.
On Sunday the 15th of September we went to RAF Honnington another great Track on which Sprint Records had been set at in the past, the weather was blistering hot with a very slight side wind and the Security was VERY Tight with armoured guards on the front gate, once inside it was Scrutinnering/Riders Meeting it was off to race.
I was expecting faster times but in the morning I was still around the low 14 Seconds, so being as it was so humid I modified my Jetting and what a difference it made 4 Back to Back High 13 Second runs and just to top it off I was leading the 250 Classic Sprint Championships Best Time 13.79@91.96MPH
BREAKOUT THE PURSUDER September 12th -Wattisham
Back to my Favourite Track Wattisham, it was weather was cool and there was a tailwind it was a championship round and my main competitor on an Orange RD250 was improving his times every race so it was time to bring something special out of the bag THIS BEING THE PUSUADER a secret mix of Petrol and solvent resulting in a 102 Octane fuel the also helps the engine run cooler, the first run with THE PUSUDER was tense will it run? Wiii it blow up!
Well my next run seemed to answer these question, an extra 500rpm threw the gears and my fastest time 13.75 THE PURSUDER had worked its magic. Another 2 13 Second Passes and a faster ever Terminal of 96mph was enough to fend of the challenge of the RD but there was the last race at Waterbeach to run; it was going to be a close battle, just to make the day more special a Hercules aircraft full of solders armed to the teeth landed on the runway (it had been cleared) got off hung about a bit and then got on again, very odd
Fastest Time13.75@90.79MPH
Fastest Term 96MPH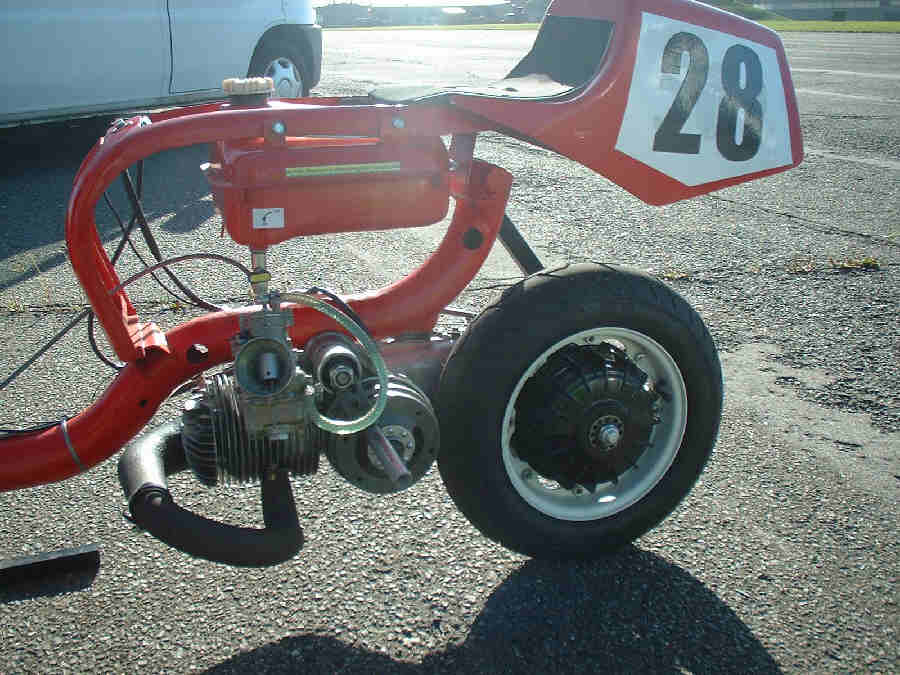 THE FINAL COUNTDOWN- October 10th - Waterbeach
With the weather cold and a slight tail wind Waterbreach looked a good meeting. The track was still an 1/8, an with a mention of my success up to now in Scootering Magazine the pressure was on as there was a good Scootering Crew Present and Cam Lam even came along For a go. So after Set-up/Scrutineer/Sign on it was up to the line with scooterist looking on it was head to head with a Triton, bam off the line and Triton was dispatched!!
Two more run of the same standard we delivered and the my sprinter died. A great day, great support and I won the championship for LAMBRETTA
Thanks for everybody who came down.
Fastest Time 1/8 8.84@77.4MPH New Unofficial Record/Class Champion!!!!
THE FUTURE
I am currently building on the experience of last season with improvements in Power, Scooter Weight and Aerodynamics.
Thanks to my sponsors with out them I would not be able to Race
LAMBRETTA CLUB GREAT BRITIAN
AF RAYSPEED
TINO SACCHI (IMOLA RACING)
CAMBRIDGE LAMBRETTA WORKSHOP
NOKIA PHONES
MICHELIN TYRES
CASTROL OILS
FM HELMETS
RACE PRODUCTS
Spec:
Front Hub – 1966 Li150 111 Fully Lightened/Speedo Parts Removed
Front Forks – Lowered By 4 Inches/Raked To 55 Degrees/Fully Lightened
Frame – 1966 Li150 111 Fully Lightened/Raked To 55 Degrees/Lowered By 4 Inches/Lengthened By 4 Inches/Vega Legsheilds
Handlebars-Lightened 1966 Li 150 111
Petrol Tank – LD 150 With Speedway ¼ Inch Fast Flow Tap/Modified LD Cap For Breather
Brakes – Front – Standard Rear - Converted Rear Set From Lambretta Parts
Seat – Fibreglass TZR Racing
Carb – Dellorto 34mm PHBESS Magnesium Rubber Mounted
Exhaust – DJ 42mm Expansion Chamber
Block – Indian GP200 Fully Lightened/No Kickstart/No Bumpstop
Head – AF Hi-Compression 250 Side Squish
Plug - NGK N8 Iridium
Barrel – AF Rapido 250 Kit (244cc) Blueprinted By T.Ward
Piston – Forged Asso 72mm
Bearings – Hi Load FAG
Crank – AF 60mm Race
Ignition – AF Electronic With Lightened Flywheel
Transmission – 18/47/No Lower Chain Tensioner/Modified Oil Breather
Clutch – Wet 4 Plate Li/Uprated Springs
Gears – Li150 111
Rear Suspension – None 1' Square Section Tube 1' Shorter Than Standard
Tyres – Michelin S1 Front - 100/90x10 Rear - 100/90x10
Oil – Putoline Race
Gearbox Oil – St90 1/2 Litre
Fuel – Shell Optimax/Acetone 'THE PURSUDER'
Colour – Red/Black Hubs/White Rims and Petrol Tank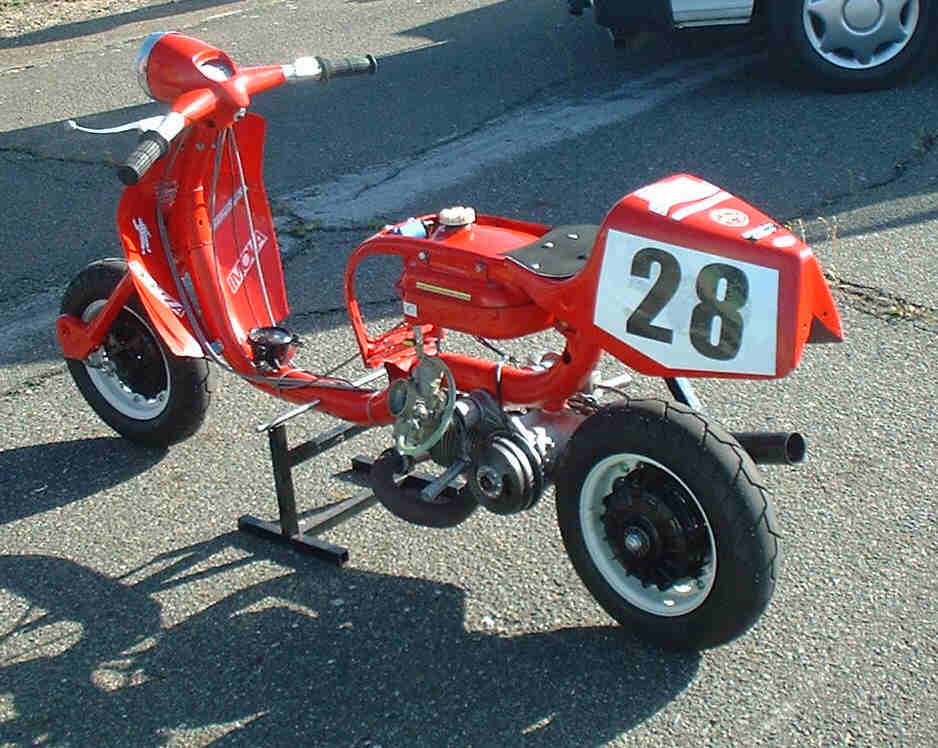 More info on http://mysite.wanadoo-members.co.uk/dragster_lambretta